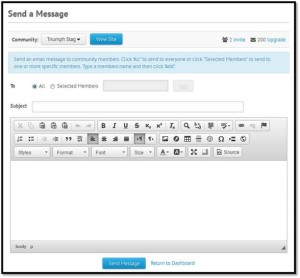 Several new community features are up and running on Follr.com. With this latest release, communities can be created – and grow! – more easily. New capabilities include, among others, a more streamlined "joining" experience, more opportunities for customization by administrators, and engagement tools that make it easier than ever to communicate and connect with members. Four of the most game-changing features are described below.
Custom Content
Community administrators can now add custom HTML to the content and sidebar areas of the community page. This means easy-breezy embedding of content from other sites. (Think YouTube, banner ads, Strava, etc.)
Member Invitations
Inviting members to join your community is as easy as sending a quick email. Simply enter email addresses – or upload a whole list! – and Follr will check for duplicate or invalid emails before queuing up a default email for administrators to review and customize if they wish. Invites can also be sent via Facebook, Twitter, LinkedIn or Google+. As soon as invites are sent, admins can see progress on their dashboard.
Messaging
Administrators can also direct message one, several, or all members at once via Follr's new engagement capability. This is convenient for updating all members on important developments, starting private conversations, or connecting/introducing two or more members. Administrators can also authorize other members to use this messaging capability via an email request.
Activity Digest
Follr will send a weekly engagement email to all members summarizing that week's activity. The email will highlight community progress, popular content and interactions etc. This is a great way for members to be reminded of what they're missing each week. And should there be a slow week with no activity, no email will be sent to avoid annoying, empty emails.
Visit Follr.com now to get started and let us know what you think of these new features!