The focus of the methodology known as community engagement strategy is to build more interaction and engagement within your online community.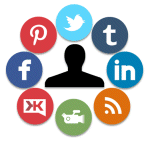 To help you achieve this goal here are 5 quick tips:
Be Enthusiastic – If you love it they will love it!!
Community is a Conversation, not a MegaPhone – Listen and learn, share and support!
Attitude Matters – Be positive to encourage positive interactions!
Promote Others Before Yourself – Rule 1 in many peoples books. 12:1 is preferred ratio.
Be Authentic – Not transparent, there is a difference, know it.
Want to learn more? Stop by the Community Managers community and post a question!