We've rolled out lots of new Follr features and here are details on one of them.
We have updated the news feed and you can now more widely share activity and content from connections and members of the general Follr community: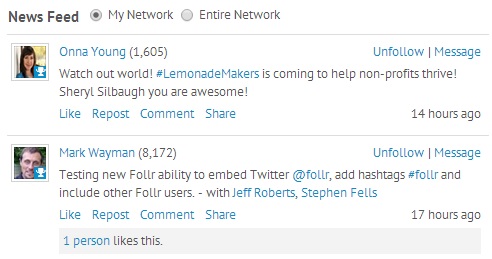 The activity and status updates you see are either from 'My Network' (your existing Follr connection) or 'Entire Network' (everyone else). You can then like, repost, comment and share that content via Facebook, Twitter, LinkedIn or Google+.
To like a post simply click the 'Like' link and you will see this message:

To repost content within Follr click the 'Repost' link, add commentary (if so desired) in the box then click the 'Post' button:

In the example above you will see Mark used a hashtag, an @ sign and member tagging. We'll highlight these features in a later post.
Commenting is easy – simply click the 'Comment' link, add your comments then hit enter:

And finally Sharing. Simply click the 'Share' link, select a social network you want to post to then click share!
Check back for details on other new Follr features and if you would like to see something added please let us know.